For more information about us, call
(608) 755-4123
FULFILLING DREAMS IN A DREAM JOB
With more than 250 employees, KANDU Industries is one of the largest employers in Janesville. KANDU is more than just the name of our organization, it also describes the vision, values, and mission-first culture that is the foundation of our success. Our employees are proud to say they work for KANDU and enjoy being recognized for the important work we do to help individuals with disabilities lead more independent, fulfilling lives. The common qualities of KANDU employees include humility, kindness, warmth, and empathy.
Apply in person at:
1741 Adel St. Janesville, WI 53546.
COMPETITIVE BENEFITS
While most non-profits have a reputation for less-than-stellar benefit packages, KANDU Industries is proud to offer a competitive benefit package, coupled with competitive pay. Employee reviews and job satisfaction surveys guide us to create a workplace that is welcoming and supportive to all.
Benefits Included:
401(k)
Health
Life
Short-term or Long-term Disability
Vision
Dental
Bereavement
PTO
AFLAC
FMLA
ONGOING TRAINING & DEVELOPMENT
Exploring your limitless potential is not limited to KANDU clients. Our employees are provided with regular opportunities to grow through KANDU's strong professional development and training programs including workforce advancement training, safety tutorials, Real Colors training, CPR, and more.
BEAUTIFUL, SPACIOUS & MODERN WORK ENVIRONMENT
Late in 2023, KANDU will move to its new location in Milton, Wis. You will spend your workday in a beautiful spacious newly remodeled facility with plenty of windows, green space, updated technology, in-house cafeteria, and even a sensory room. The new building will open avenues for growth in multiple areas of our business including programs and services, production, catering & rentals, and administration.
WE KNOW HOW TO HAVE FUN
Themed monthly "Fun Days," popular community fundraising events, holiday celebrations, pizza day, and the KANDU Kudos employee recognition program are just some of the ways we have fun and bond as a team at KANDU. Our clients help to remind us that fun is a necessary part of life, and our workplace embraces the camaraderie and friendship built through engagement, team-building activities and events.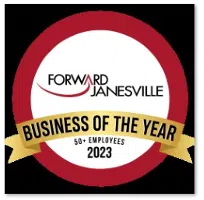 JANESVILLE'S BUSINESS OF THE YEAR
KANDU is honored to be recognized as Forward Janesville's 2023 Business of the Year. You will join a highly respected organization with a rich history and deep roots in the community.